We do love our Minnesota winters, but summer is coming! With better weather comes outdoor activities, gatherings, outdoor birthday parties and backyard playgrounds. However, arguably the most used outdoor structure we own will be our deck. We use it to cook and eat our food, watch a sunset, birdwatch, and a hundred other things. If customized, it can even be used year-round.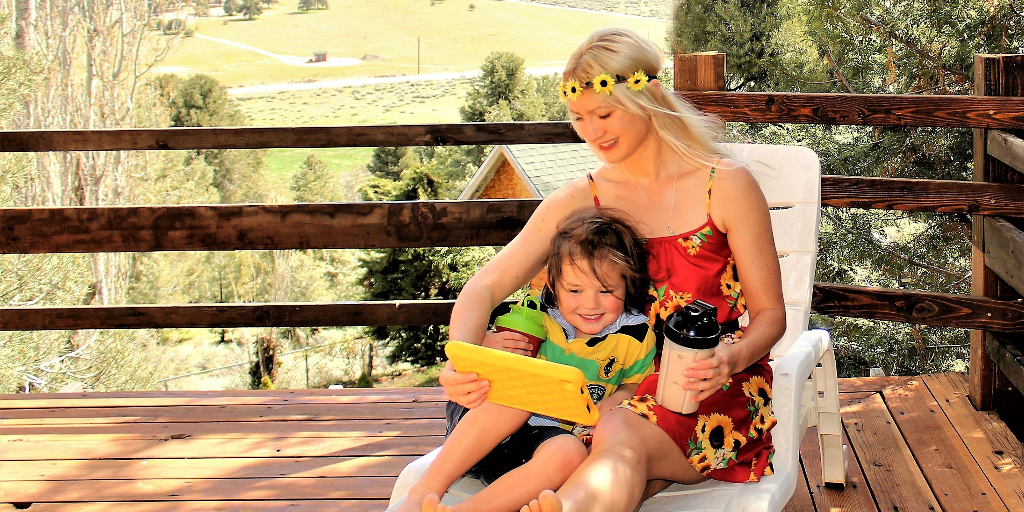 How many of us have dreamed of having the perfect outdoor living space that perfectly compliments the home and our needs? If we use our imaginations and resources wisely, having the perfect deck space is merely a function of asking the right questions and understanding the answers. We've written this article to provide a homeowner who may be considering a deck expansion or deck replacement with some common terms you're likely to hear so you can ask even better questions.
Before we dive into definitions, understand that construction professionals are second only to sailors for having a slang term for nearly everything, so we'll stick to descriptions for the most part. That way you won't be confused by brand names, like calling drywall "sheetrock". So, we'll stick to terms that will work whether you plan a deck replacement in Minneapolis, or a deck addition in St. Paul. These terms will also work with zoning officials should you need to confer with one.
Terms To Know For Determining Deck Size
The first part of any new construction project is to make sure you have the space to put the project in. This space in your yard will be determined by setbacks or lot lines. These are the boundary lines for your yard. Your local building code will determine how close to the setbacks you can build. So, if you want to add to a deck you already have, you can measure from the setback to see what space is available for the project. Once you know where you can put your new deck you can consider how it will improve the space you have now. This will often be a function of the lot you are building on and if it slopes. For example, you may need a multi-level deck to take advantage of a spectacular view.
Terms To Know for Planning Deck Construction
After the design is done and you know where you want to put it, the footings are laid out to determine what will hold your deck up. The footings are holes dug into the ground and filled with rebar and concrete. The footings will be sized based on what you plan to have on your deck, other than people. For example, a common deck accessory is a hot tub. Hot tubs come in all sizes, but consider that a tub filled with people and water can weigh in excess of three tons and the need for adequate support becomes obvious. A deck addition in Minneapolis requires very deep footings because the ground freezes so much deeper here that frost upheaval is a problem. When this happens, the water in the ground freezes and expands in the winter and pushes in all directions, so if the footings aren't below the frost line (the deepest the ground usually freezes) the ice can cause the concrete to break and move. In construction we want things to stay where we put them.
After the groundwork is done, you should address the deck posts, which are the vertical boards that go from the footing to the part of the deck you grab with your hand. That part is called either a guard rail, or a handrail, depending on where it is. Generally, a guard rail is considered the "guard" that keeps you from stepping off the deck, where the handrail usually refers to the sloping rail you grasp as you climb stairs. The codes are different, hence the terminology. Speaking of the guardrail, the spindles, or balusters, makeup part of the guard or handrail and go from the part you walk on to the part you hold on to. Often this is where a homeowner will show some flair and originality. Fan patterns, geometric shapes, or diagonal patterns are possible as long as they conform to the prevailing building codes, and occasionally architectural committees. By the way, if you live in a restricted subdivision it would be a good idea to get those approvals as well before you begin. Some folks can get a little too creative, so check before you start.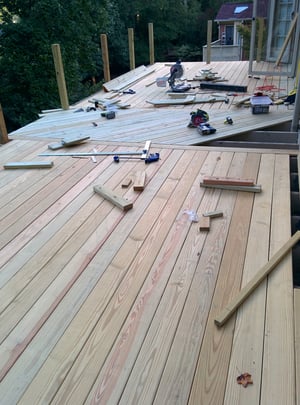 The most touched part of any deck are the actual deck boards. These are the boards you physically walk on and are usually either 2 x 6 boards, 5/4 boards, or a composite material. Often, because we touch the deck so much, the time spent designing this part will often pay the biggest dividends. These are all just variations of the same thing, depending on how you want your deck to perform, or to match an existing area. Both 2 x 6 boards and 5/4 boards will be made of pressure treated wood, which are mechanically and chemically treated to resist decay and insects. A newer alternative uses composite materials such as recycled plastics and other materials to mold new shapes and colors that previously required painting. These materials do require different installation procedures, and the cost is significantly more. However, these materials are designed to last much longer than traditional pressure-treated lumber, are much more stable, and require almost no maintenance.
You'll also want to consider how the stairs will work, if there are any. For many of us, climbing steep, narrow stairs can be a chore. A deck extension project is a perfect time to address any changes you might require, like adding a few additional steps or making the steps wider. As many older folks will tell you, the more accessible you make your deck the more often you'll use it. You might also consider additional lighting in the design stages as many solar-powered and AC powered post cap fixtures are available.
Having the ultimate backyard party deck can be an investment that pays for itself over and over. Since our founding in 1952, Builders & Remodelers Inc. has served tens of thousands of customers throughout the Twin Cities area. We offer easy financing with absolutely no down payment and no payments for a year, with the peace of mind that your roof will be installed right. We guarantee our workmanship on every deck we install for a lifetime.
To learn more, call us at 612-425-1987 or complete our online form to request a free in-home consultation.