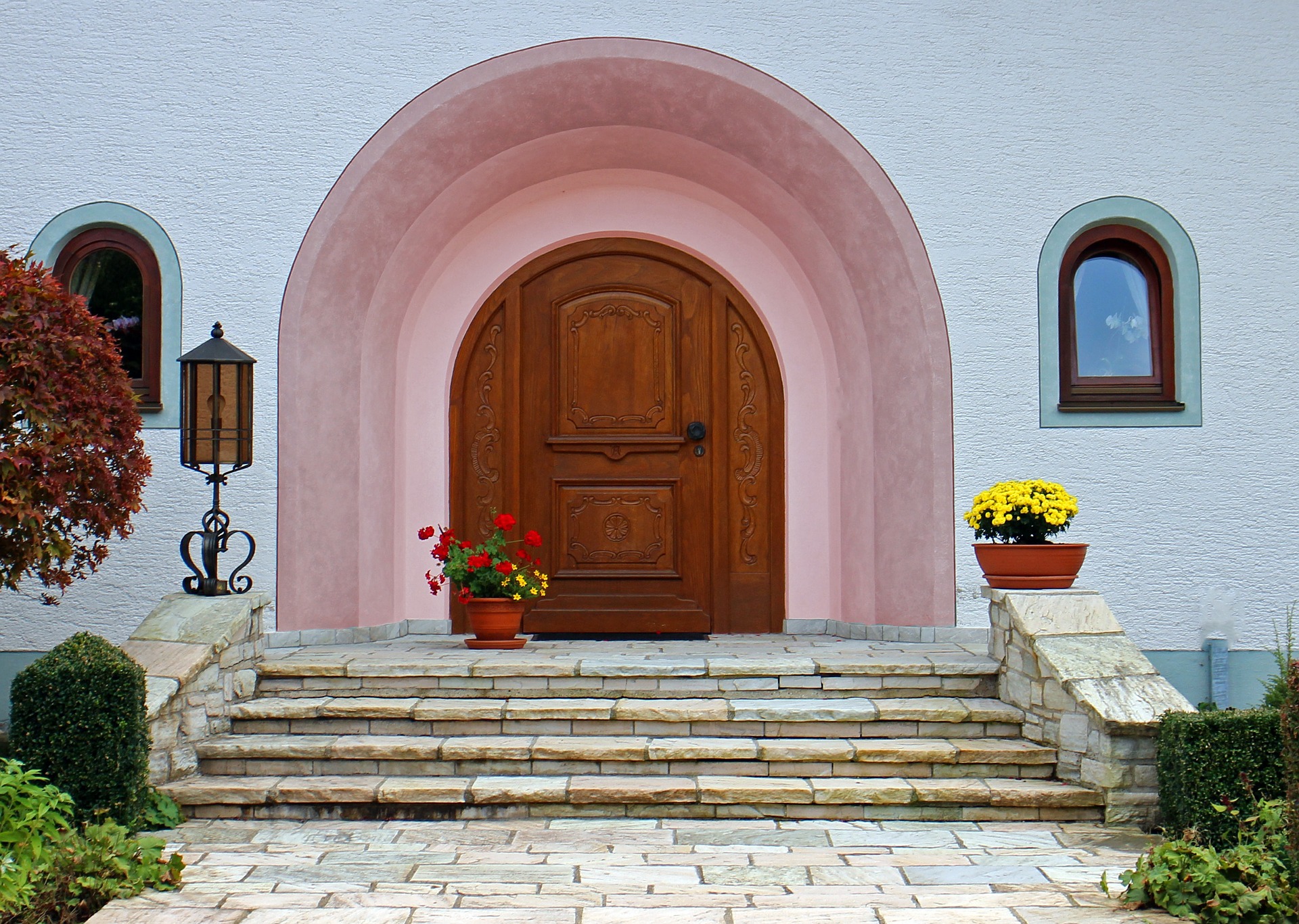 It's been said that when film director Stanley Kubrick couldn't scout a location in person, he had his assistant take photographs from the top of a ladder for the length of an entire city block. He was looking for the perfect door for a scene that was eventually cut from the film. Famously a perfectionist with incredible attention to detail, Kubrick understood the value of finding that perfect door. It's one of the first things we notice from the curb, and comes as a simple, cost-effective way to upgrade the exterior design of a home without undergoing a major home remodel.
The front door serves as an entryway to a building, a pronounced role in the world of architectural design. Subtle design choices lend tone to the environment and style of a home, giving a first impression to a guest from the outside. With a larger variety of colors and style choices available today than ever before, the ability to customize and save has never been more accessible. However, good exterior design isn't the only thing that a new door can provide.
Exposed to the elements, used daily, and tasked with the protection of your home and everything inside it, the importance of a high quality, reliable door can't be understated.
Entry Doors Raise Home Value
For a homeowner looking to upgrade their house, a few different factors will influence their decision making process. One of those factors is the projected return on investment (ROI) of a project. Improvements to your home don't just enhance design -- they enhance real property value. For the right project, with the right ROI, this can mean offsetting a major portion of the total project cost. Finding the right home improvement project that can both provide an immediate upgrade, while simultaneously enhancing property value, becomes the name of the game.
The 2020 Cost vs Value Report, completed by Remodeling Magazine Publisher Hanley Wood and the National Association of Realtors (NAR), aggregates data on the ROI for 22 different remodeling projects every year. Wood and the NAR leverage the expertise of top real estate professionals and the most authoritative market data analysis and construction cost estimation softwares on the market. The overall confidence interval is 95%, which means their cost-value ratio findings are within 1.6 percentage points of perfect accuracy. This serves as an ideal point of reference for the homeowner walking the tightrope between cost and value. Their latest data indicates that homeowners who replace their entry door receive 67.2% of their total project costs back through an automatic increase in property value alone.
And this return rate is only the floor. After receiving an increase in property value, a homeowner can expect to reap a few other benefits as well. While an increase in curb-value and exterior design both quickly jump to the top of the list other factors such as increased home security, improved insulation, and even lower energy bills bring additional and consistent returns to a homeowner as well. Ensuring that the project results in consistent, measurable returns across the board.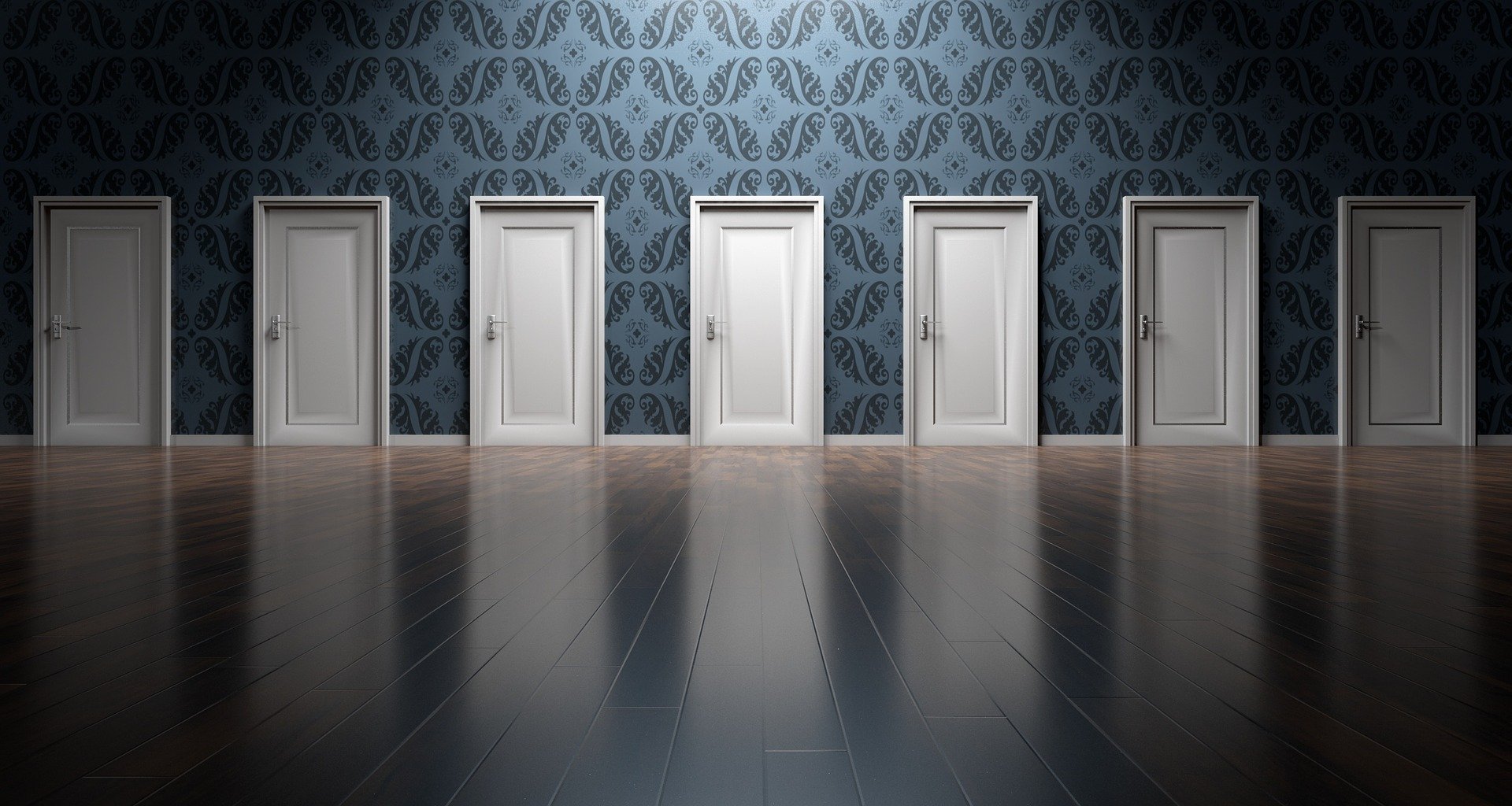 Other Benefits of New Doors
Exterior Home Design
As Stanley Kubrick will tell you, the entry door is not only a main focal point for exterior design, but should manifest the interior style and flow of a house as well. Your entry door should encapsulate your home; it should be an extension of it. Depending upon when you last replaced your entry door or even when you bought your home, there is likely a much larger assortment of options than there were at the previous time of purchase. Today, doors come in all shapes, sizes and colors made from all sorts of materials designed for things like durability, aesthetics and light allowance. With so many entry door options available, modern front door design has become a medium of expression for the homeowner.
Furthermore, when you install or replace an entry door, it can increase the perceived value of your house dramatically, especially when, in a buyer's eyes, it augments the exterior design of your home. Some studies have shown that the curb appeal resulting from a new front door can ultimately result in an increase of $18,000 - $24,000 to a home's perceived value. The cost of a new door and door installation only averages approximately $6,000 for the total project. This represents a potential 300-400% return on investment at the point of resale down the line.
3 Types of Doors
There are many types and materials available for door construction, but the main materials used to construct a new door are:
Fiberglass

Fiberglass doors are very common, and can be colored to match just about any palette. They are designed for their sustainability and longevity, and can last you upwards of 100 years or more.

Wood

Another incredibly common entry door material, wood can be shaped and sized to fit any entry way. It can also be stained or painted to match the color you're looking for, and is a versatile building material with superior levels of insulation. Prior to options such as fiberglass, vinyl and aluminum, wood was the only material on the market.

Vinyl

A cheap, extremely durable material, vinyl maintains its shape and integrity in both the winter and summer. Vinyl doors can slide, swing or fold open and closed, and are just about as close to maintenance free as a door can get. Even better, vinyl doors can be recycled, minimizing the eco-footprint of your home.
Builders & Remodelers has a variety of door options from Soft-Lite, Pella, and Albany to fit every architectural styling. We carry 12 stain colors, 25 paint colors, over 200 different styles, ensuring your home design emanates from your entryway.
Home Security
While your entry door may serve as an extension of your home, or even a warm welcome to invited guests, there are those uninvited guests we would prefer feel less welcome. An advantage that comes with updating your entry door is the decreased risk of break-ins. Studies have indicated that as many as 34% of home break-ins occur after the front door was used as the point of entry. Material, design, and technological advances in the design process have raised the standard for home security solutions. Many homes, especially older ones, still have aged, wood doors. Many older wooden doors have compromised locks and an outdated design that never took force resistance into account during construction. With modern integrated fiberglass, steel door construction and multi-point locking systems, a newer door always means a safer home.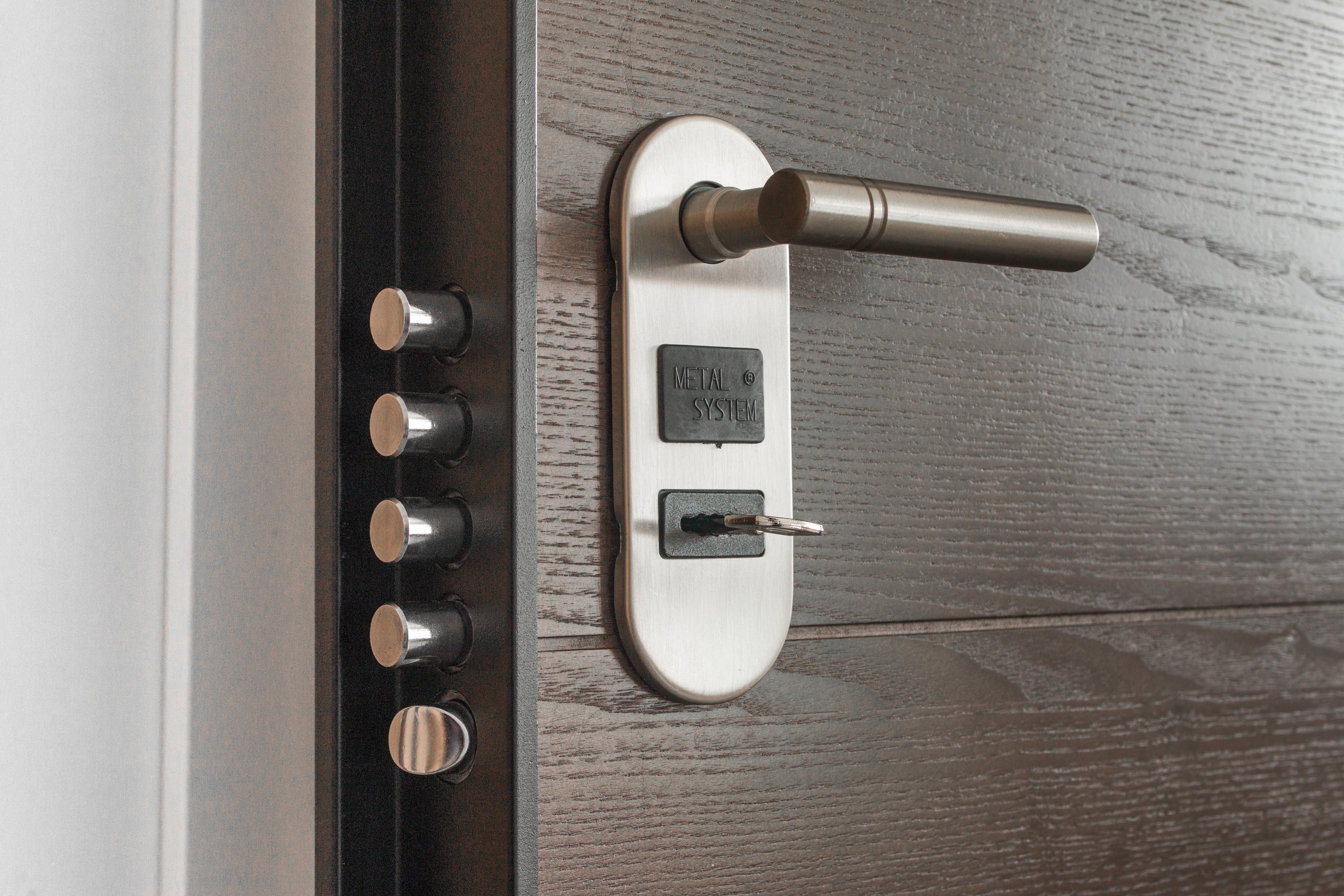 Best Doors for Home Security
If security is what you're after, check out this list for the best entry door options that prioritize home security.
Solid Steel Entry Door

Solid steel is about the most secure material on the market. Heavy, thick, and strong, with a range of lock and bolt options, solid steel doors are extremely durable and built for security. Not only that, but for the homeowner interested in ROI, steel entry doors test out the highest, bringing an average 101% return in home value.

Steel Core

For those homeowners looking for the added security of steel, without the lack of design options that comes with it, purchasing a new door that has a wooden exterior and steel core could be the way to go. The wooden exterior allows for customization, coloring and design tweaks, while the steel core maintains structural integrity and force resistance.

Mahogany

Utilizing hardwood to construct a secure entry door is a great way to go for a secure option that maintains elegance and design versatility. Pre-hung Mahogany doors are both sturdy and thick, practically negating the possibility of a burglar kicking it in or a storm knocking it down. If that door is locked, it's not moving.

Aluminium

As opposed to iron entry doors, aluminum entry doors are immune to rust, and come at a more palatable price point. They also don't require much maintenance, saving you time and up-keep costs down the line, while performing very well against rain and snow. The installation timeline is faster than other security door options, and is 2.5 times lighter than iron, providing additional versatility, while maintaining a range of style options through finishers and colors.
Save on Energy
Temperatures and elements change with the seasons, so keeping your home well insulated is a year-round job. Not only that, but it makes a large difference in energy bills. As we near the summer months, keeping a home cool is a priority. Unfortunately, this often comes from long hours running fans and air-conditioners, which, in turn, net higher energy bills. The same can be said in the colder months, when heaters struggle to keep internal temperatures high, and cold air seeps through the walls. This is especially true during the cold winters of the Upper Midwest, when heat insulation becomes a valuable benefit to homeowners who choose to update their doors. That being said, if it's noticeably hotter near your door in the summer, or noticeably colder in the winter, it's time for an update.
According to studies by the U.S. Department of Energy, new exterior doors often fit and insulate better than just about any older door or model you can find. Most modern doors are filled with a polyurethane foam insulation, to reduce direct conduction and air leakage while maintaining superior insulation. They also contain an integrated and durable bottom rubber sweep, to reduce upkeep and cleaning, while also implementing quality compression weather stripping on the frame to seal out the elements. Replacing your older door with an updated model can ultimately lower your home's reliance on heating and cooling units, thus lowering energy bills, and require less maintenance and upkeep, saving valuable dollars and time spent on maintenance. Thanks to their tight seal and ability to withhold elements such as rain, snow and wind, they also provide an additional level of insurance for the belongings in your home.
An important statistic that can inform a homeowner about which doors will provide the best ROI for energy efficiency is their energy performance ratings in relation to local climate and home design. Energy performance ratings take factors such as U-factor, solar transmittance, and air leakage into account while generating an overall rating of the door's ability to insulate and resist conductance. U-factor refers to the non-solar heat conduction of a door, or the amount of non-sunlight related heat that a door will pass into the home. Sunlight/solar transmittance refers to a door's ability to allow exterior light into the home without letting heat in. Air leakage is relatively self-explanatory, and refers to the amount of air that slips between or around the door, draining your insulation efficiency and keeping those heaters and coolers running longer. Utilizing energy performance ratings that are optimized for local climate and weather conditions can not only help narrow your options, but give you a better sense of the factors in your home that can contribute to higher energy bills. Many of Builder and Remodelers' doors and glass panels are National Fenestration Rating Council (NFRC) certified and ENERGY STAR qualified, ensuring that homeowners save money on energy costs and raise their home's efficiency levels.
Installing a New Door
In our 60 years of serving Minneapolis, St. Paul, and the surrounding Twin Cities areas, while completing more than 30,000 projects, one thing has become abundantly clear. At Builders & Remodelers, Inc we know doors. As homeowners and professionals, we take pride in delivering the highest quality service, products and standards to every project, and place an emphasis on customer support, open communication, and quick turnaround times. Our local door installation teams are experienced and versatile, meaning there's no door we can't install. Check out some of our customer reviews to see what other homeowners have to say about our work, call us at 612-261-0639, or complete our online form to request a free in-home consultation.